Special guest blog by Pat Marr, North Carolina, USA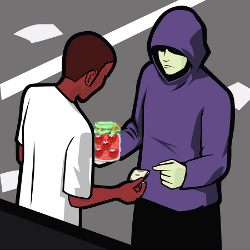 Breaking News!
Interpol is on the lookout for the global distributor of a new but highly addictive substance called STREETJELLY. The mastermind appears to be a deceptively congenial programmer named Frank Podlaha ( AKA "Frankie" or "The King" by his minions on the STREET)
He has single-handedly constructed an elaborate system which enables performers to connect with audiences ANYWHERE ON THE PLANET! At first look, this seems innocent enough… but now, health care providers around the world are reporting an epidemic of symptoms that indicate a new addictive substance has been unleashed.
Symptoms include the following:
the irresistible urge to play music on StreetJelly until 5 am even though you know you have to get up for work in the morning
the inability to get through a ten-minute period without checking StreetJelly to see if somebody new started playing since the last time you checked.
cashing in the 401k to buy tokens
sweaty palms and shaky legs unless you're sitting at the computer watching StreetJelly
playing hooky from school, work or other important responsibilities in order to get your StreetJelly Fix
the realization that the only time you experience true euphoria is when performing on or watching StreetJelly
If you have any of these symptoms, don't bother reporting it because there is no cure. Your best bet is to surrender and enjoy the euphoria.
PS: it's not illegal (YET)… but federal agents say it's more fun than a lot of things that ARE illegal. Your call.