Special guest blog by StreetJelly musician Nicole Coward, a.k.a. SongbirdLive, on her recent trip meeting StreetJelly friends (from the US and Canada) in Mexico.
Making True Friends Online
The "new age" question of whether it's possible to "make true friends online" is an interesting one. ​For sure, one of the things I love most about my experience on StreetJelly.com has been meeting new people. People who show genuine care for each other, learning each others strengths, weaknesses and struggles, supporting each other along their paths and watching each other grow…sure sounds like friendship doesn't it? So what happens when you finally meet someone face to face whom you've already connected with online…
Recently, me and the aptly named "whispering John" were lucky to meet Kristi "Lady Mellow" and Rick "Keys Tomato" when we found out we were staying at places less then 15 minutes apart from each other IN MEXICO and at the SAME TIME!! Small world eh? (that was my Canadian'ness coming out there).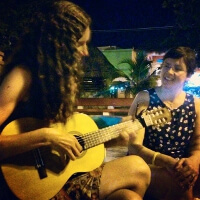 It was a magical evening, singing together under the stars on a warm night, in the centre square of a small Mexican town. Kristi was fantastic with vocal harmonies, and I was honoured when she told me (before singing together my original song "Through My Window") how she was so excited to sing this in person after she has sang along with me so many times before in her kitchen. We can easily forget how music connects us, we can never fully see all of it's powerful reaches, and a platform like Streetjelly really magnifies it!
Friends? Definitely! Instantly! Or maybe we were even before meeting in person 😉 me and John made plans to visit Kristi and Rick sometime, sing more together and we hope to be meeting other "friends" from SJ, in person, in the near future.
Check out the YOUTUBE video John did of that evening…