New Feature: My Shows
We've added a new page for artists called My Shows.  Here is a quick summary of what's included:
Get detail info about each performance (times, viewers, etc.).
Get detail info about tip jar contents (who tipped what).
Enter / Update a set list any time (no longer have to only enter songs during a broadcast).
This info is not open to the general public or shared with other musicians.
The link to My Shows is only available to musicians and can be found on the main menu drop-down.  Click the arrow on the top-right of any page next to the thumbnail image.  Also, artists will be automatically sent to this page after each show when they click on the "Stop Broadcast" button.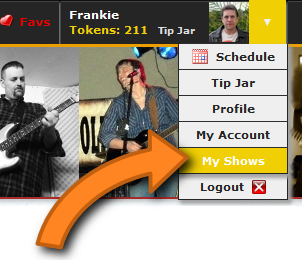 This is the first in a series of StreetJelly improvements for set list management and every musician's reporting requirements to the songwriter's associations.  Stay tuned, we are currently working on "My Repertoire" so musicians can enter a list of songs once, and easily build a show's set list by point and clicking.  Musicians will also have the option to share their repertoire on their EPK profile page and during performances.