"Member Blog Series" guest post submitted by StreetJelly artist: Joanne Cooper
7 things you should know about my mum the live streamer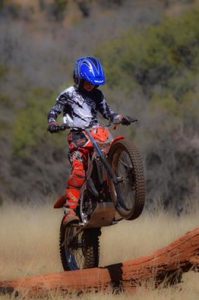 This guest blog has been submitted by Mr Z who is 12 years old. Mr Z writes about some of the things he has noticed about his mum, Joanne Cooper, since she began streaming on StreetJelly.com 3 years ago.
I've been watching my mum being a Live Streamer for the last three years and here are 7 things I have noticed that you may or may not know.
1. My mum half dresses up for her shows
You guys see the top half of my mum. Let me tell you about the bottom half! It is always pajama bottoms, or shorts or tracksuit pants. And no shoes! (Unless it is freezing cold and unless you count slippers as shoes). So although she may look nice to you (she does disappear into the bathroom to put on makeup before each show), she looks a little bit of a mess to us!
2. My mum almost never misses Sunday folk music night
My mum does an hour of folk songs almost every Sunday. She says she wouldn't miss it for the world. So even if she has been gigging all day, or even if she has been sailing all day, she still does her regular show. Sometimes she says she needs a bit of a kick in the pants but that it is a little like going to the gym. She says that you don't always feel like doing it but once you get on that treadmill and build up a sweat then you feel really good! (I'll trust her about the going to the gym part)
3. She spends a lot of time finding songs for her show
My mum is a very good a multi-tasking. This is a skill that I am told us boys do not have. She can sit in front of the TV, with her computer and her phone and keep an eye on all three (plus keep an eye on whether I am doing my homework or not!). She says she is spending her time finding songs that she would like to sing for her StreetJelly audience but I think she is actually surfing Facebook. She also goes to guitar lessons once a week and comes back with a whole heap of new songs to try out.
4. She practices her songs in front of the TV, which drives me mad
When she gets back from the guitar lessons, she practices the songs she has just got right there in the living room in front of the TV! I am sure many of you will know how this drives me absolutely mad and I am always asking her to "play softer" or go to her studio.
5. My mum spends a lot of time fiddling with all her music stuff
You should see my mum's studio! There are so many cables that it looks like bowl of spaghetti. Of course you don't see all those wires and you think it is as neat as pin (I am learning all about metaphors at school). My mum is hooked on microphones and speakers and whenever there is a knock on the door it is either some new fishing stuff for my dad or a new speaker for my mum.
6. My mum only has a few of the ideas she uses on the shows
My mum spends a lot of time on streaming sites to see what others are doing. She says she doesn't want to copy anyone; she just wants to see what they are doing so that she can get some ideas. I call that stealing but anyway! She also reads a lot of books on old rock stars and she listens to podcasts on who knows what.
7. Don Gaynor is her biggest fan!
My mum went all the way to America last year and visited Don in Oklahoma. She also went to the StreetJelly meet up. Don has been my mum's greatest fan since they met each other on the Band-in-a-Box website about three years ago. She says Don has hardly missed any of her StreetJelly shows in all the time she has been live streaming. He also sends her songs to listen to and learn and she looks them up on YouTube and gives them a go (see point number 3).
I could probably think of loads more things to tell you but I think I will save that for another time because right now I have some YouTube videos of motorbikes to watch. Who knows, one of these days I might even come on one of her shows.
Joanne is a singer-songwriter from Johannesburg. She has recorded 7 albums in her tiny home studio over the last two years. You can sign-up for her monthly newsletter http://www.joannecooper.co.za/email-list-sign-up