Special post by StreetJelly CEO and Founder: Frank Podlaha
Happy Birthday, StreetJelly!
It is with great honor that StreetJelly has reached its 5th year – uhh, its 5th Jellyversary!  August 15th, 2012 StreetJelly launched the musician-first, online busking, website concept. What a wonderful and crazy five years it has been!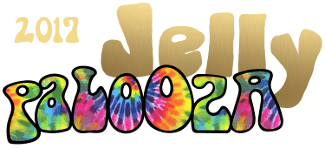 As you know, each year we celebrate our birthday with the live streaming festival: Jellypalooza.  This year, the festival falls on August 20th (we always do it on a Sunday).  We encourage all our musicians to play on Sunday, have a good time, and stop in to watch the other acts.  Viewers, sit back and enjoy.  Everyone, wear a tie-dye or groovy palooza shirt.
This past year has been an interesting one.  Our biggest focus at SJ has been the ever changing technology of the internet.  First, we've been upgrading our broadcasting methods to meet the phasing out of Flash and (npapi) Plugins by the major browsers.  It's a lot of work that only gets us even to where we began – not always the favorite thing to do in business.  But we hope the transition to WebRTC and OBS Studio goes smoothly for all.
Second, we have added a number of broadcasting features this past year:  24-hour Replays, broadcast recording, local black-out streaming (pro-level), juke-box tipping (pro-level), and so on.  We continue rolling out these features in phases.
"Peace ☮ Love ♥ Streaming"
The tag-line for Jellypalooza has always been "Peace, Love and Streaming." Now, more than ever, this is so important. SJ is a music venue, here to provide a world-wide stage for independent musicians; a way to share and build friendships; and hopefully a method for musicians to make a few bucks for their art. We are here for the of love music, to spread that love, and hopefully make the world a tiny bit more peaceful. Please don't forget: Peace… Love… and Streaming.
And now back to our usual fun and silly antics…
Many thanks to the Real Life Heavies for their help on this video.  Check them out…  http://reallifeheavies.com