Happy 2nd Anniversary, StreetJelly!  August 17th, 2014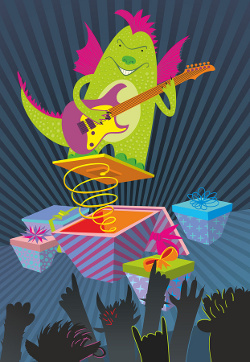 On August 17th, 2012, the very first musician performed on StreetJelly.com!  …and to quote a great lyric, "what a long strange trip it has been."  Yes, year two is now in the books, and we keep on truckin'.  It has been an intense busy year.  The site has grown tremendously and we are most proud that we still keep it a friendly fun destination for pure live music on the web.  Here are some quick stats to date:
70,000 unique visitors came to the site 300k times
1.3 million page hits
696,000 minutes of streaming video, 11,600 hours
14,800 musical performances
1,540 musicians on StreetJelly
306,400 tokens tipped to musicians, that's over ¼ million tokens – $50k
THAT'S A LOT OF TIPS ! ! !
Read about Year One click here
Timeline Highlights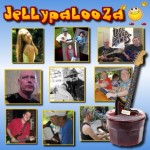 August 18th, 2013 – Jellypalooza Online Music Festival! We kicked off our one-year anniversary with the first ever truly Online Live Streaming Music Festival. 12 hours straight of continuous multiple streaming musicians.  The Second Annual Jellypalooza is scheduled on 8/31/2014, Labor Day weekend.
August 25th, 2013 – Meadow Ryan Album Release Party.
October 19th, 2013 – Big Deal Extravaganza!  Awardees of the Big Deal rocker pin (a 500 token value) perform special back-to-back shows. Clifton Printy, and Image and Family.

October 31, 2013 – Halloween Jam!  StreetJelly musicians perform live shows in scary …and silly costumes.
November 10, 2013 – The Merv Roast  Amanda secretly plans a surprise roasting of Merv.  Mini-Merv looses his shins!
December 15, 2013 – Jelly Jingle  Oh, this was so much fun.  All day, SJ musicians performed Christmas and Holiday carols.  We are totally doing this every year.

December 31, 2013 – Another tradition continued.  Our second New Year's celebration by SJ musicians singing Auld Lang Syne in every US timezone.  19 more timezones to go for next year.
January 28, 2014 – StreetJelly wins 1st place in the Tennessee Veteran's Business Associations business plan competition.
February 14, 2014 – Sing me a Love Song Night  Who needs dinner and chocolates when you get great musicians singing all love songs live on Valentine's Day.
March 1, 2014 – Purple Saturday  Purple what?  It's a StreetJelly thing, you gotta know the SJ anthem – Purple Rain.  "Purple Saturday" was our tribute to all things purple.  It was a ton of …uhem …purple fun.
May to July, 2014 – Street Jelly Media, Inc. participates in a media business accelerator program, MediaWorks, hosted by the Knoxville Entrepreneur Center.  This is behind the scenes stuff, but nonetheless an important step in growing StreetJelly to the next level.  It takes a village (not my words) to build a great and successful start-up.
July 2014 – The Great StreetJelly Guitar Giveaway Music Video Contest 

This was the battle of all jelly battles for a beautiful brand new J. Backlund Retronix R-800 guitar.  There was jelly-blood everywhere by the time the dust settled.  But only one musician was victorious – Alex Mason of Nashville, TN.
Here are all the great music video entries…
What's Next?
Two big things coming for 2015.
Website Updates: design and features.  Yep, we're not going to keep it the same forever.  Stay tuned for pretty layout changes, and as always, new features.
Mobile App.  Yes, let's get our jelly-fix everywhere and anywhere.