You've been volunteered into the Jelly Welcome Army!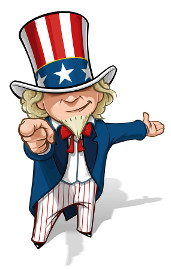 When I was in the Army, I was often "hey you'd," as we would say.  "Hey you, you just volunteered yourself to stay tonight and clean out the 1st Sergeant's office."   Of course, I was thinking more like, "hey whaaaaaat?"  As time goes by and the more things change, well, the more things stay the same.  Hey You, you've been volunteered to be part of the Jelly Welcome Army!  (Don't worry, I clean my own office.  Ok, that's not true, but it gets cleaned somehow.)
As StreetJelly grows everyday, a warm welcome to new users and artists into the Jelly Nation goes such a long way.  So all my Jelly Friends, please take these few steps whenever you see a new musician or viewer on the site.
New Viewers
Say "Hello" and "Welcome to StreetJelly" whenever you encounter a new user.
Help new users understand some of the crazy words we use in Jelly Land with a brief explanation.
Same thing with Smileys, explain any not-so-obvious meanings.  For example, new users have no idea what the fly means the first time they see it.  Add a quick note like "(listening only)" so they understand.
New Artists (first time performing)
Say "Hello" and "Welcome to StreetJelly."
Give them feedback on their sound. But please don't overwhelm them with too much tech talk.  They may be new to webcam and USB mic technology, so you don't want to scare them off.  If their sound is at least decent, tell them "we can tweak it later when you get more comfortable on the site."
Explain any features on the site they many not understand like tokens, Rocker Pins (badges), play lists, etc.
Take a moment to scroll down and read the artist's profile.  You'll be surprised how interesting some of them are and it may help you strike up a conversation with the musician.
Keep the chat conversation focused on the musician. This is kind of a tricky one, but important.  A brand new musician performing on the site is probably a bit uncomfortable or nervous with this new format.  It's not that easy to keep up with chat messages, respond, talk, play, remember chords / lyrics, and so on.  It can be overwhelming to new artists if the chat is inundated with tons of unrelated messages, personal conversations, and zillions of smileys.
The key to being part of the Jelly Welcome Army is to remember how you first experienced StreetJelly in the early days.  I know we all have fun on the site now, go a bit nuts with smileys, and joke some really bad whoppers.  But remember that a musician's performance is like an invitation into their living room.  We wouldn't want to be invited in someone's house and ignore their presence.
I hope we've been able to give everyone (as much as humanly possible) a warm welcome when they found StreetJelly.  Now it's your turn to return the same welcome to all the new people.  Pay it forward and many thanks, Jelly Friends!
~frankie
Any other tips how to welcome new viewers and musicians?