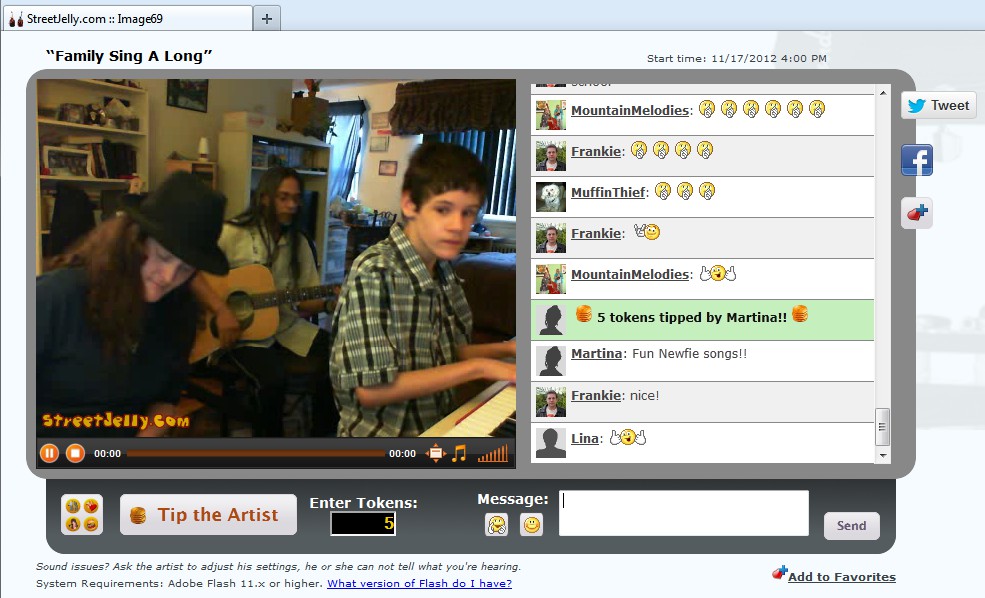 My business friends can all relate to the statements from our marketing departments: tell a story when promoting your business.  I certainly have the gift of gab, thanks Mom, so telling a story is never a problem.  But actually trying to pull out a compelling story from the day to day drudgery of business is not that easy.  I mean really, in my world of software development and data analysis, I beg that even the greatest bullshitter can't consistently spin up interesting yarns every week.
Along comes StreetJelly, the streaming live music website I founded. (Dang, he plugged the site and hasn't even started his story yet.)  I have already witnessed numerous great moments of live broadcasting: wonderful music, passionate singing, hilarious out takes (I'm looking at you, Maestro, lol), and so on.  All of which are moments you can never see again because we don't record anything on the site.  Crazy, I know!
Last week I was watching ImageAndFamily on StreetJelly.  This is a family from Toronto who loves to perform sing-a-long tunes, Newfoundland fishing chanties, and singer/songwriter classics.  I've only met Merv and Amanda online through StreetJelly.  If I got it straight, Merv is from Trinidad and Amanda is from Newfoundland.  She's the Newfie!  Their son, Robert, performs on keyboard and vocals with them.
Robert is 13 and autistic.  I would have known this if I read their profile, but Merv was telling me his story in a chat conversation.  You see, Robert didn't talk or communicate much with the world before the age of 7.  That's when Merv introduced him to music.  Something clicked!  Robert responded to music like he was a virtuoso of 75 years.  I've seen him on keyboards and singing on StreetJelly.  There's great talent there.  The amazing thing is how music rescued Robert from his quiet world.  While playing keyboards with his family, he sings chorus and melodies in a sweet innocent voice.  Precious!  And Robert follows along with the chat window, says hello, and suggest songs himself.
I don't know what else makes a more amazing story than being let into the living room of Merv and Amanda and sharing in with their family sing-a-long.  Try that with a digital download mp3 site!