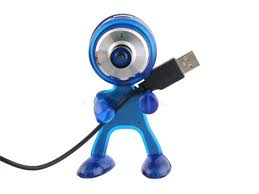 Performing online in front of a webcam is something probably new to most musicians.  It's certainly new for us, too.  We noticed some things that will help your performance be visually more appealing.
Sit or Step Back away from your webcam. This is probably the best advice.  Most performers are sitting too close to their webcam and basically it's just their head filling up the screen.  Being at least 6 to 10 feet away from the cam frames a nice image of the artist, especially when playing an instrument.  Which leads to tip #2.
Show us that you are playing an instrument.  Don't worry about your fancy finger work, when we can visually see you playing the guitar or whatever – it adds to the experience.  So if you are in tight quarters and can not sit too far back, point your cam down at your instrument.
Don't over power your computer's microphone.  If you are performing through your pc's or laptop's built in mic, chances are your voice and music will over power the mic at some point causing distortion.  Again, sitting further back will help even out the sound.  Just remember to speak loudly in between songs so the mic can pick up your normal voice.  For a better sound, you can make huge improvements with a just a simple sound-leveling, noise-cancelling pc mic.  These are basically called USB "conference call" mics you find in computer stores (not music stores).  For around $60-$75, these mics make a big difference.
Last, don't forget the room around you.  You don't need to be performing on a stage, but make sure the background is not distracting to the performance, i.e. messy, cluttered, dirty laundry, etc.  Remember, you are performing for tips, make every bit count.
Do you have any more ideas?  We'd love to hear them.